So who watched the Royal Wedding?
And who thought Kate Middleton was the luckiest 'commoner' on the planet?!
And who was supremely jealous?!
If anyone asked me those questions,
I'd be forced to answer "MEEE" to all three.
I watched the wedding last night with my aunt and a few other Filipina women,
all of whom kept commenting on how skinny Kate Middleton was,
or how plain her dress was.
I kind of agree with the former (apparently she lost some weight for her wedding and consequently had to have her wedding band re-sized, as well as her engagement ring, which was Princess Diana's)...
her sternum seemed a little gaunt...
HOWEVER, I have complete empathy for her because she was preparing to marry a PRINCE!
Imagine the stress!
And most would-be brides try to lose a few before their wedding because of the paranoia.
At first I agreed with my aunts about the simplicity of the dress but as the night wore on,
and more close-ups of the dress graced the tv, I got to see all the details of the dress
and concluded that she looked beautiful.
Admittedly her dress was on the 'simple' side,
but how can you expect a wedding dress like Diana's from '81 in 2011?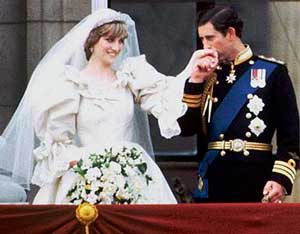 Princess Diana's dress was suitable at the time and so Cinderella-like.
Had Kate worn something so puffy and fluffy, people would've laughed!
The more I look at photos of Kate's wedding dress, the more I love it.
But seriously, Kate is so beautiful, inside and out!
Every time she's in public with William, she's always got this smile on her face
and she's never done anything to taint her reputation in the 9 years she's
been William's on-again/off-again girlfriend.
I want to be BFFs with her so badly...
Yes, I have a girl-crush on her.
But... wow.
From a 'commoner' to Princess William of Wales, Duchess of Cambridge.
I had butterflies (and intense jealousy coursing through my veins) the whole time I was watching the wedding.
I want to marry a prince :(
And might I add that Prince Harry looked rather dashing ;)
HEEHEE
If William was allowed to marry a commoner,
then that means Harry should be as well, right?
Ohohoho
there must be millions of English girls signing up for the navy
(or whatever part of the military Harry works for)
as we speak,
hoping to have their own little 'dream come true' story with Prince Harry...


But enough about the Royal Wedding,
here are some photos I took about 3 weeks ago.
I really like the colour of this jacket
and the rope-belt on this maxi.
I'm so short I have to wear this maxi with heels though ...
it's just so sad.
Lastly, a montage of photos of The Duke and Duchess of Cambridge
that make me melt and want so badly to have a wedding hahaha
Yes, William's bald spot ruins the photo
but it's ok because she's shorter than him and can't see it.
This is William and Kate having a moment,
and possibly giggling about an inside joke.
And the footman in the back with glasses looks like Harry Potter's fat twin.
But awwww those two are just too cute!
Oh, I'm melting so much that I can't even feel the jealousy anymore.
"
Marriage is intended to be a way in which man and woman help each other to become what God meant each one to be, their
deepest
and
truest
selves.
It is good that people in every continent are able to share in these celebrations because this is, as every wedding day should be, a day of
hope
."